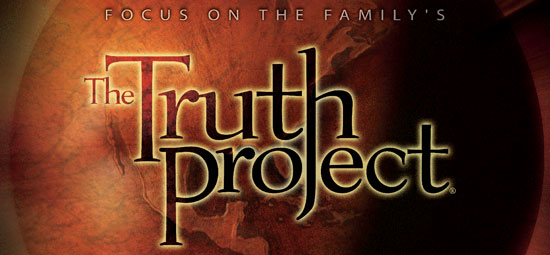 Register for a Training Event
Attend a Truth Project Leader Training Event
To lead a Truth Project study, you must attend a training event. Sign up here to attend one hosted by us.
In a recent study, the Barna Research Group revealed a stunning statistic that continues to reverberate throughout the evangelical world. Only 9 percent of professing Christians have a biblical worldview. To counter this slide within the body of Christ, Focus on the Family has launched one of the most ambitious and powerful projects in the history of their ministry – The Truth Project.
The Truth Project is a DVD-based small group curriculum produced by Focus on the Family. It is taught by Dr. Del Tackett and includes valuable insights from a host of Bible scholars and theologians, including Os Guinness, R.C. Sproul, and Ravi Zacharias.
The Truth Project curriculum is designed to build a systematic and comprehensive biblical worldview in the lives of believers. Composed of 12 lessons and over 13 hours of material, the DVD curriculum discusses in great detail the relevance and importance of living the Christian worldview in daily life. Each lesson looks at life from a biblical perspective, studying the very nature and character of God and how He has revealed Himself to us.
Upcoming Training Events
Check out the training events put on by the Montana Family Institute that will enable you to host your own Truth Project event at the venue of your choice. If you would like to schedule a training event in your area, please contact us. Currently scheduled events are listed below: